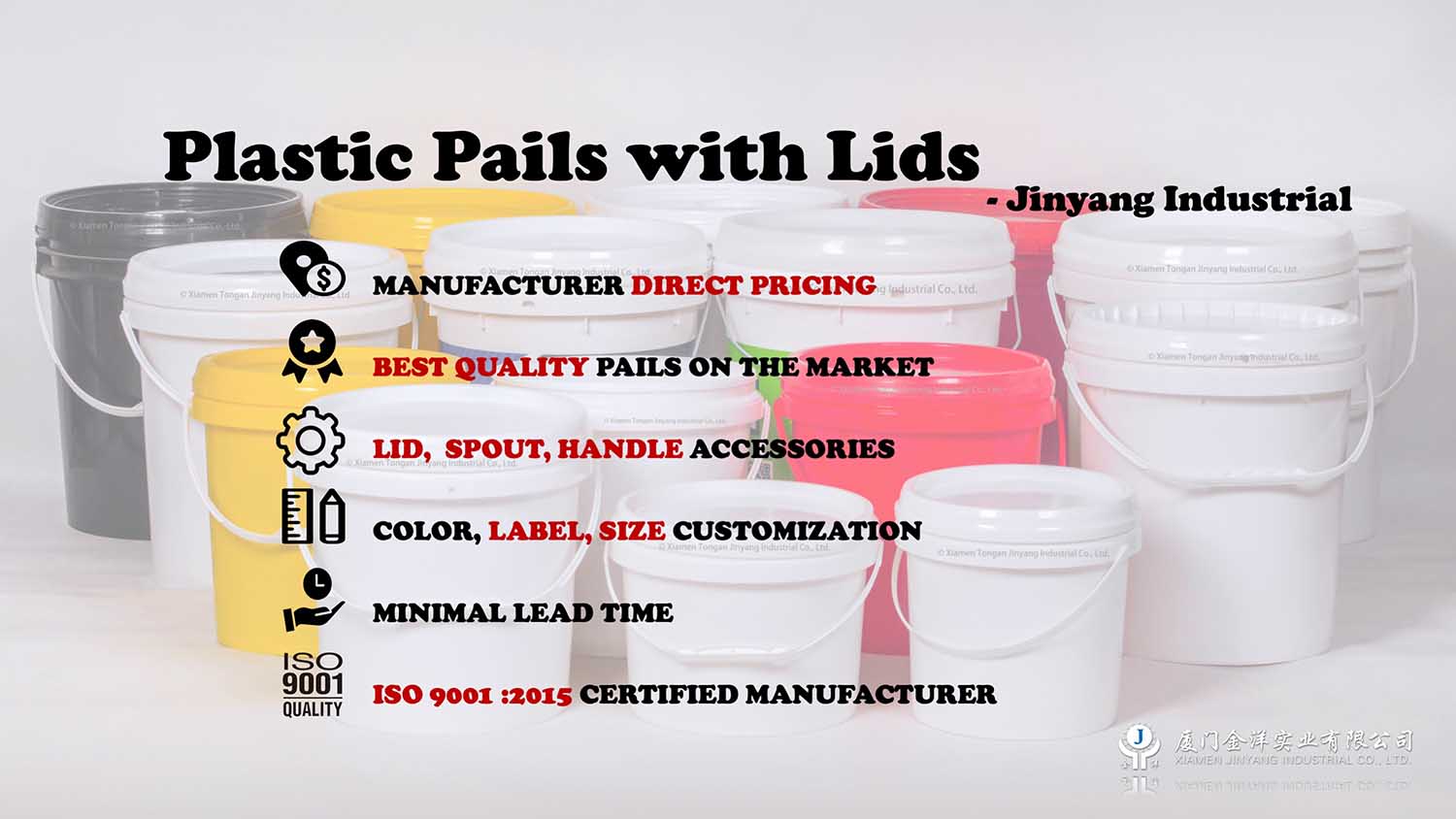 Durable Plastic Pails with Lids
Jinyang Industrial specializes in manufacturing and exporting plastic pails and buckets. Jinyang carries a variety of small to large-sized round colored plastic pails ranging from 4 liters up to 20 liters (5.28 gallon & 5 gallon), including the popular 20 L bucket. Our plastic pails are made from food-grade PP (polypropylene plastic resins) and HDPE (high-density polyethylene pellets). Jinyang's plastic pails are tamper-evident and FDA-approved for food storage. Lightweight, but strong tubs plastic with metal handle or plastic handle are designed for easy carrying.

Containers' Resealable Lid Options
Compared with our competitors, our price for white plastic buckets is affordable (30% cheaper) and includes plastic pail accessories such as resealable container lids. Yes, we sell buckets with lids. For our lid accessories, we have two accessories options for you to choose from: Tear Strip Plastic Pail Lids and Lids with Pour Spout.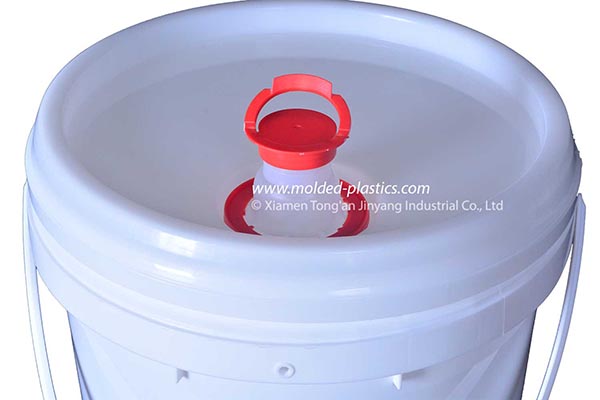 Customization & Label Printing Services
Colors - If you are tired of our white-colored products, just tell us! We are able to manufacture plastic pail buckets in any colors.
Styles & Sizes - Can't seem to locate your dream plastic buckets or pails with lids? We have solutions for you! Jinyang Industrial is a one-stop plastic injection molding service provider. Certified by ISO 9001: 2015, we are happy to work with our client to create injection molds and deliver the prototype to you to verify the quality and styles within 20 days.
Label Customization - Jinyang Industrial can help you with all your plastic pail design requirements from label design to label printing.
Pail Applications
Our Round HDPE and PP plastic pails are ideal packaging solutions for food products, paints, liquids, powders, honey, oil, chemicals, agricultural products, fertilizers, and more. We are able to provide SGS testing reports for FDA standards.
This pail product is applied in multiple industries including Home Storage, and Construction sites. When empty, these Containers can be nested inside each other, occupying far less space when stacked inside each other.
Why Purchase Bucket With Lid From Jinyang Industrial?
The same quality standard pails as USA buckets
30% cost saving compared with your local wholesale quote (Sea freight cost included)
Reputational manufacturer with ISO 9001: 2015 certificate
SGS Testing Reports available for our plastic pail products Free sample provided for quality verifications
For large quantity orders, we offer a quantity discount for sure Minimum lead time
Can I Count on Jinyang Industrial?
Jinyang Industrial has been producing molded parts for over 20 years and has more than 10 years of global trade experience. We have been partnered with a lot of famous corporations in 8 different countries. If you would like to learn more about our client cases, please go to our Client Cases Tab. One of the most famous shoe brands, ECCO has corporated with us for more than 15 years.
If you still don't trust us because of the traditional impression of inferior Chinese products, I suggest you order a free sample from us to test the product quality. Please feel free to Contact Us if you are interested in getting a complimentary sample.