Synthetic Thatch Design Matters

Synthetic Thatch as an alternative to natural thatch, also named thatch artificial or synthetic palm thatch, is made of synthetic 100 recyclable plastic materials. Our synthetic thatch products have a life expectancy of over 20 year. Having been in the synthetic thatch roofing industry for as long as we have, we keep investing in our research&development. Every year, we will perfect our artificial plastic thatch design and correct our product weakness. And all our 2020 thatch materials is our third generation design, which can withstand hurricane attack compared to our competitor's products. We also work closely with our clients and listen to their advice to create the best thatch panel with different natural thatch look and colors. For example, we can customize Reed Thatch, thatched roof Canada and Bali hut thatching for our clients in any colors.
I really do suggest our clients research the synthetic thatch market before making decisions. We understand sometimes cheaper products come with huge attraction. As a quality-oriented natural roofing thatch manufacturer, Jinyang Industrial definitely has the ability to produce cheap thatch roofing panels, but we refuse to do it. I will point out those outdated designs of thatch roofing and their weaknesses below.
1. Not hurricane or typhoon proof thatch design.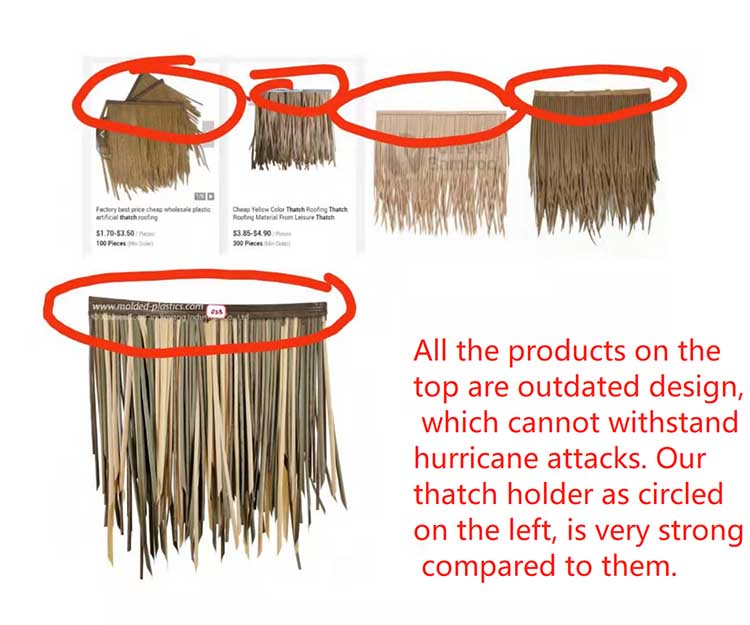 We have a lot of clients that build a tiki bar and tiki hut for beach resorts near coastal areas, and we definitely understand they are worried about the hurricane and typhoon every year because our factory located in Xiamen, a coastal city too.
So Jinyang Industrial brings new natural and synthetic thatch roof designs as shown in the image below. Simply look at the image below, Some of our competitors still used aluminum rail or separate synthetic thatch binder for their synthetic thatch products. These synthetic thatch product is highly vulnerable and cannot withstand the hurricane attack or high wind for sure.
2. Our material recommendation for synthetic thatch.
As you may notice on our synthetic thatching product specifications for thatch roof. Jinyang Industrial is the only manufacturer that used Nylon-PA6 to produce thatched roofing materials instead of HDPE.
Why? Simply because, among all synthetic materials, Nylon material has high strength tensile, which means they are more durable. Normally HDPE materials are used to produce products such as plastic bags. And Nylon materials are used to produce products such as fishing ropes. If you think about these two examples, you will easily figure out their differences.
And here, I am not saying HDPE product is bad, I am saying Nylon material is better. We have clients that use our HDPE products for ten years already, and they are good as new. If you want to lower your cost, HDPE still is a good choice.
For your information, as our client's complaint, some of the international trading companies sell poor quality roof products made with recycled PE material. Even though the rate could be lower than 2 dollars per roof tile (I have to admit it's very charming), they all regret it at the end. Some of the trading companies even vanished after sell.
3. Thatch Manufacturer's advantages.
As an artificial thatch (certified by ISO 9001) manufacturer directly, Jinyang is able to customize your natural synthetic thatch roof styles, textures and natural colors. All of our thatch products listed on our catalogs are created by our clients with a natural look.
We are also able to provide you the most competitive quote for the highest quality thatched roofing materials. We welcome you to compare our products with competitors' products. Feel free to tell us what you found on the internet. We are able to point out why they have a lower price than us or their design weaknesses.
If you have any questions or concerns about our beautiful thatched related roofing products, please feel free to Contact Us! Building your dream synthetic thatch roofing for your tiki bar with us Today!