If you would like to know our thatch roofing materials' features and advantages compared to our competitors' products, please visit our news tab. We posted a news related to products analysis and comparison.
Custom Thatch Blends
-- Our product allows for a broad range of flexibility to create custom colors, materials, sizes and thatch styles -- if you dream it, we can create it.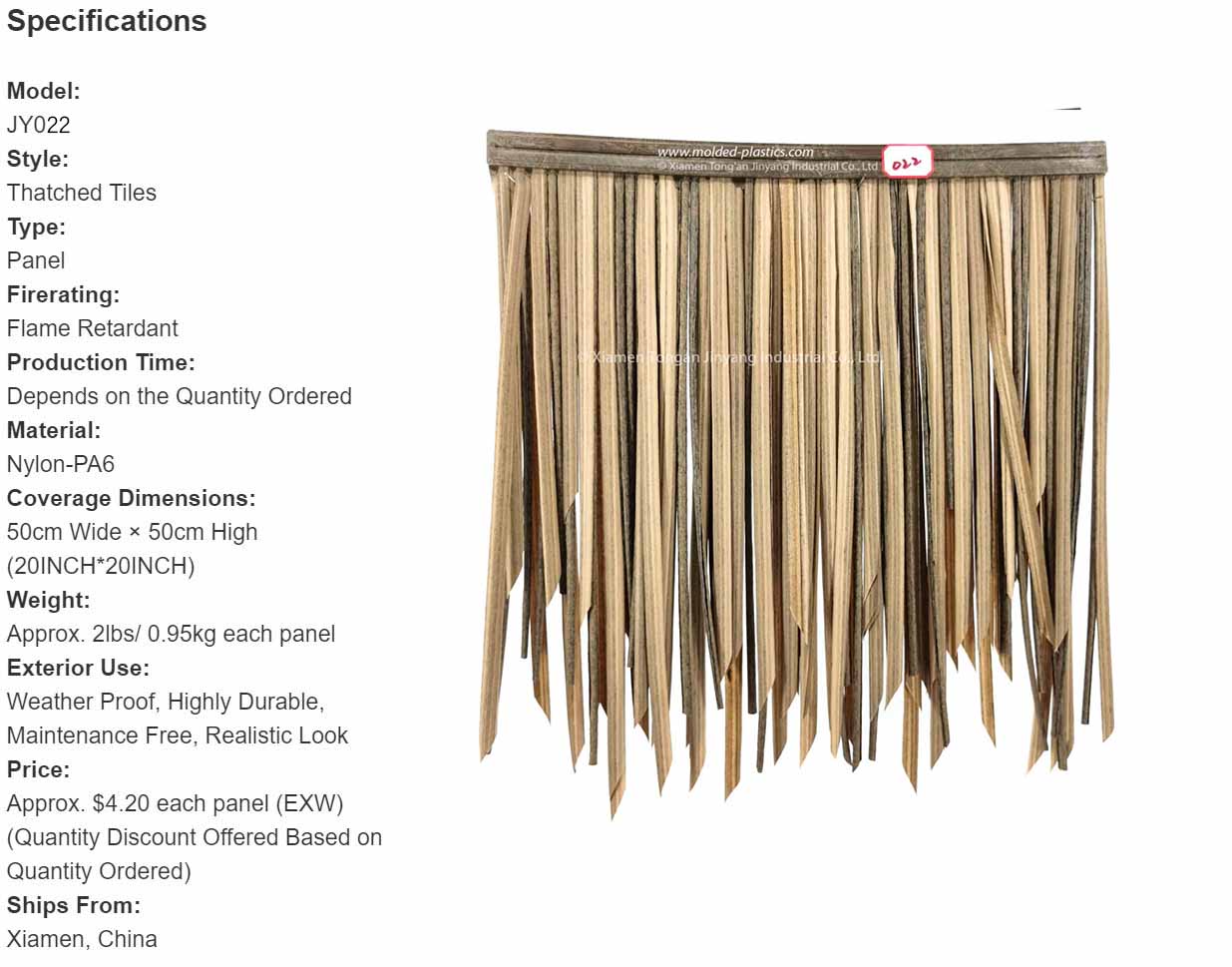 As a durable thatch roof manufacturer directly, our Nylon thatch roof cost is way cheaper than retailing price. If you are interested in purchasing our wholesale tiki thatch rolls, please feel free to click inquiry or email us button above.
-- Thatched roof and Bamboo evokes the feeling of beach resorts, relaxing vacations and tropical atmospheres. However, the natural thatch and bamboo has a variety of downsides, such as fire hazards, wind issues, insects and rotting. Even though the initial cost is only a little bit cheaper than Synthetic Thatch products, the maintenance fee in the future is a nightmare. Our Synthetic Thatch roofing and artificial bamboo panels offer an easy way to build Tiki bars, beach resorts and zoo anywhere without worrying about maintenance fee.
--Made from eco-friendly synthetic materials that is high in quality, the products are created using molds taken from real thatch and bamboo. This allows our products to look exactly like the natural products while being made from a durable, long-lasting, and maintenance-free material. You'll be astonished at how well it will withstand ocean breeze, heavy rain, snow storm, intense sunlight and general wear & tear for more than 20 years while still looking amazing.
With incredible color options to choose from, you'll be able to find an appearance suitable for any design plan.
Our thatch roof is not only cost affordable, but also come with the following benefits:
* Durable, Lightweight Material
* DIY Friendly & Easy to Install
* Realistic Look
* Maintenance Free
* Appealing Color Options
*
Flame Retardant
* Color, Material, Texture Customization Available
* Nearly hurricane & typhoon proof