Why we take pride in our bamboo pole's design?
Jinyang Industrial is the original designer of artificial beautiful bamboo pole around the world. One image below can prove it.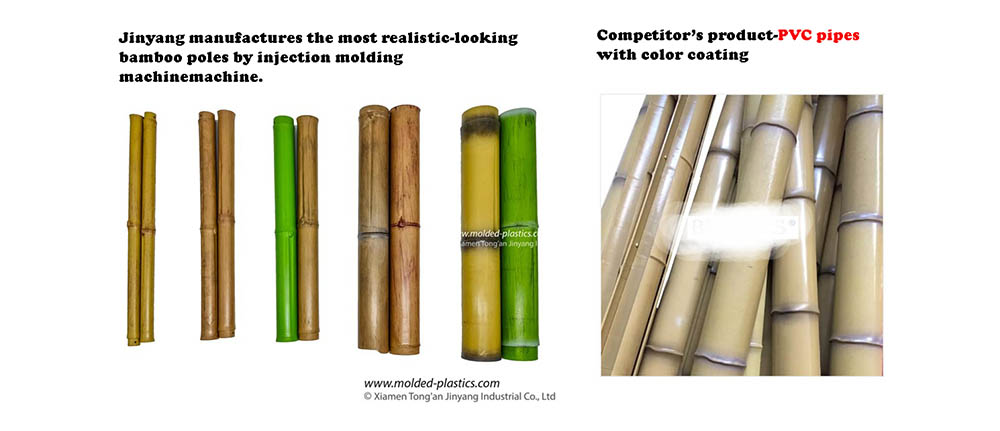 Yes. There are a lot of websites are selling plastic bamboo stick right now. And we understand that you may question us for saying original fake bamboo pole designer. Here, I would like to admit we are not the first companies that sell plastic"bamboo pole", but we are the first one that sells artificial realistic-looking bamboo pole.
Please take a look at the image above and check our competitors' products on the right. Are they look familiar? Yes, those poles are PVC pipes with brown coating on it. If those type of poor design fake Bamboo poles are what you looking for. We suggest you buy PVC pipes and brown paint from your local market, and create them by yourself. There is no need to waste money on shipping fees and import tax fees. That's why we encourage you to research us and our competitors. We've heard the stories from prior customers who were "swindled" in the past by short-lived international trade companies that pop up, copy us and vanish. Therefore, we recommend you order samples or visit the factory in person before placing a large quantity order.
Our beautiful artificial and durable Bamboo poles are made from eco-friendly synthetic materials that is the highest quality on the market. Our plastic bamboos are created using molds taken from real bamboo poles. This allows our products to look exactly like the original while being made from a durable, long-lasting, and maintenance-free material. You'll be astonished at how well it will withstand ocean breeze, heavy rain, snow, storm, intense sunlight and general wear & tear for more than 10 years while still looking amazing. Also, we understand our competitors claiming that their products' life expectancy is more than 50 years. I am not sure how they come up with this number. Our life expectancy is based on our earliest client's project.