Artificial Thatch, Fire-resistant
Please permit us to encourage why you must buy Artificial Thatch instead of Natural Thatch listed below: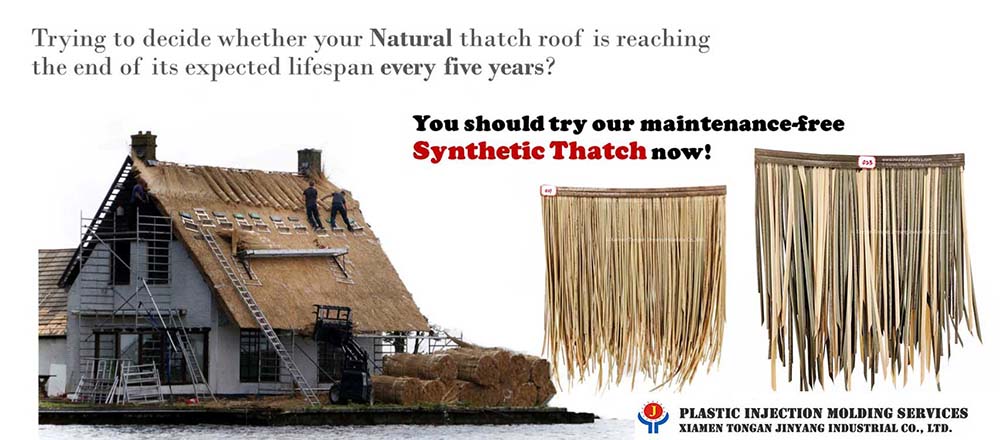 One of the most substantial aspects to consider when utilizing natural thatch is the danger of fire. Thatched roofs are more susceptible to fire than any other roofing item. Chimneys and modern-day home appliances induce about 90% of thatch fires. If a thatch roof catches on fire, it spreads out quickly as dry reeds and lawn are incredibly combustible. They are difficult to extinguish and can cost thousands of dollars in damage. Thatch roofs are similarly maintenance-intensive and need a good deal of time and money.

Nevertheless, what if you could capture the appeal of natural thatch without putting your roofing at risk? Make sure Synthetic Thatch is made from asbestos products and will secure your roofing from fires.
With our artificial thatch roof products, you do not need to stress over the risk of fire. All Jinyang Industrial synthetic roofing products have received Class A fire reports and have been correctly made in China with your security in mind.

Jinyang Industrial products do not require any flame-retardant spray or upkeep. Natural thatch roofs need a chemical flame retardant application every two years, which features increased out-of-pocket expenses. For example, if you were to thatch an 800 square meter project, you would invest about $30,000 on products over twenty years. This cost does not include expenses related to pesticide control, repair work, and upkeep.

Even with appropriate flame retardant usage, natural thatch exposes you to the risk of fire with consisted of costs and maintenance. Jinyang Industrial artificial thatch provides a safe alternative to natural thatch, so you do not need to tension over the risk of fire. Jinyang Industrial items consisted of a 20-year assurance so you can enjoy your roofing for several years without endangering the appeal and credibility of natural thatch.