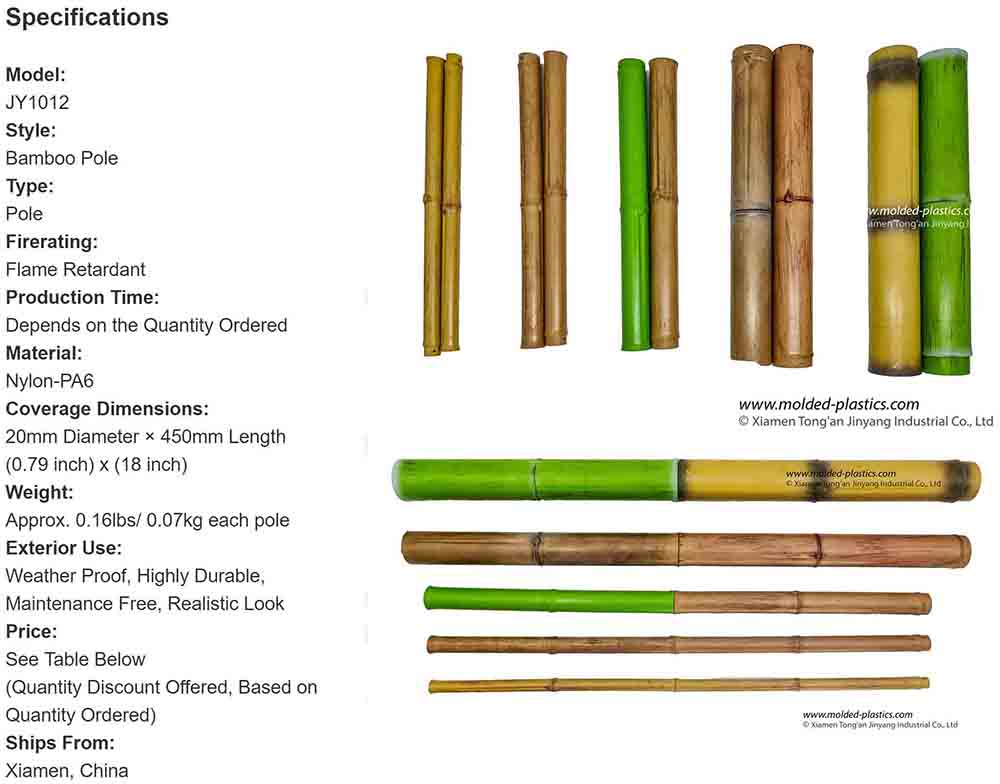 Synthetic Product Features:
Long-lasting, Lightweight

DIY Friendly & Easy to Install

Authentic-Look

Free of Maintenance

Amazing Color Choices

Fire-Resistance
Customization Available
As an artificial garden bamboo poles manufacturer, our bamboo pole for sale allows for a wide variety of possibilities to create custom colors, materials, large bamboo poles sizes, textures, and styles -- if you dream it, we can produce it.
Faux Bamboo Poles Benefits
The faux Bamboo Poles are amazingly straight, firm, and durable and light-weight.

The fake bamboo stick is created throughout injection molding machines. Color resins are mixed into synthetic resins before producing the bamboo poles, so scratches will not display as white scars.

Faux bamboo poles are ideal applications for seaside resorts, Tiki bar, theme zoos.

Original coloring and manually designed textures are added to generate the authentic-looking.
Design Advantages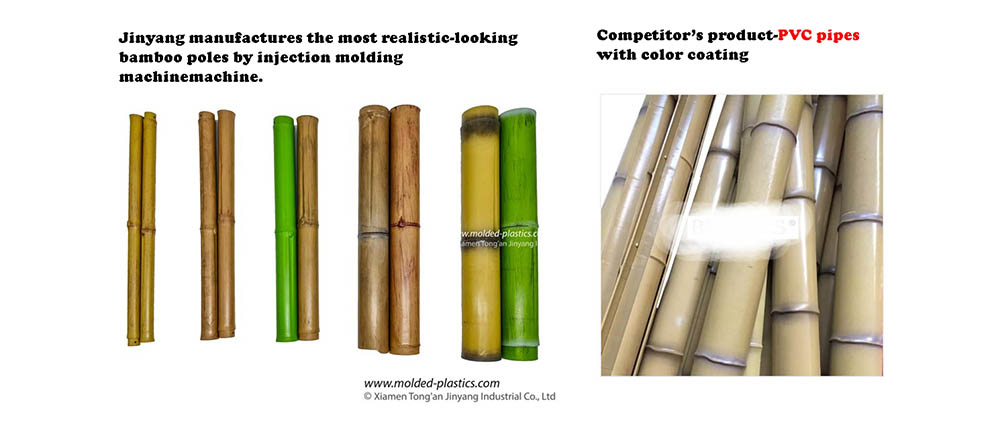 Unlike our competitor's (totally fake bamboo) PVC pipes with color layers, our Synthetic Bamboo does not demand any additional coating layers. The color is throughout the entire bamboo.

Our competitors even post rediculous articles such as "how do you paint PVC to look like bamboo". If you are looking for realistic-looking natural bamboo products, do not invest in PVC pipe.

Jinyang Industrial utilizes plastic injection molding machines to manufacture the bamboo pole. Our plastic bamboo poles are produced using molds taken from natural bamboo poles. We invested in larger than 20,000 USD to create injection molds for our bamboo pole products.

The bamboo poles' center area allows for wires, pipes, or cords to be hidden in the synthetic bamboo poles.
Synthetic Bamboo Description
Bamboos grant an insight into beach retreats, relaxing leaves, and relaxing seaside atmospheres. However, the natural bamboo pole has a variety of downsides, such as fire hazards, insects, and rotting.
Although the beginning cost is only a tiny bit cheaper than faux durable bamboo products, the maintenance fee in the future is torture. Our faux bamboo panels offer an effortless way to build Tiki bars, seaside resorts, and theme zoos anywhere without annoying by maintenance fees.
Made from recyclable synthetic materials that are great in quality, the faux products are created using molds taken from real thatch and bamboo. This unique idea allows our products to look exactly like natural products while being made from a durable, long-lasting, and maintenance-free material.
You'll be amazed at how strong faux bamboo poles will endure ocean wind, heavy rain, snowstorm, strong sunlight, and ordinary wear & tear for more than 20 years while still looking marvelous.
Buy Faux Bamboo Poles
If you are interested in our artificial bamboo products, please feel free to Contact Us with any questions. We will get back to you within 24hrs.
Our Faux Bamboo Poles Inventory: