Synthetic African Thatch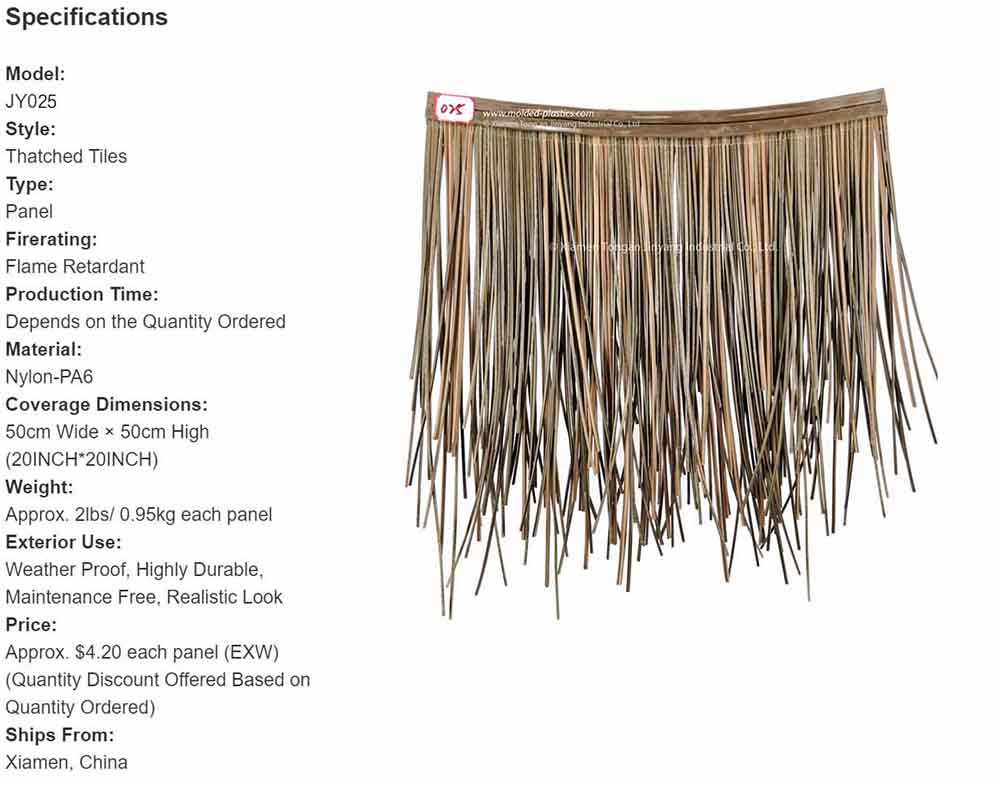 Long lifespan, Lightweight Material Customization Available & Easy Installation, Authentic Look, No Maintenance, Various Color Choices Class A Flame Retardant, Hurricane & typhoon Thatch Binder design. Please visit our Blog to learn more about the difference between natural thatch and Synthetic Thatch.
Advantages - African Cape Reed Manufacturer
At Jinyang Industrial, we also offer several good kinds of stuff as thatch reed manufacturer
Minimum Lead Time:

As an

ISO 9001

certified manufacturer, Jinyang expects to ship normal quantity orders within 2 weeks. For our free thatch African sample, we will ship it within two days.

Factory-direct pricing:

Jinyang distinguishes ourselves from many other thatch African factories by providing the best quality thatch reed at the most competitive price. That method maximizes your company's savings without losing quality. Jinyang Industrial is looking for long-term corporation opportunities. Second-order discounts are available.

100% Response Rate:

No matter your order amount, we will contact you within 24 hrs. Our customer service professionals are available anytime.
African reed panels introduction
Synthetic African thatch is one of our most famous plastic goods. For centuries, people have been using African Thatch materials to constitute structures and prevent people from the sun's radiation by offering a thatched shelter. African reed material has become more and more popular these days. Many theme parks such as Universal Studios or aquariums began to adopt African cape reed, Reed Thatch materials to decorate their roof, thanks to cultural interchanges between European countries and South Africa.
The color blends of African thatch are brown, grey, green, and orange provide a tropical touch that can provide any structure or roof with tropical spirits. Jinyang Industrial designed synthetic African thatch to withstand cold weather as well as heated weather environments. Our synthetic thatch products are also designed to be hurricane-proof.
All thatch tiles roofing is manufactured with the highest quality standards and the highest-quality synthetic resins. As a manufacturer, we can save you 60% cost while maintaining product quality. Thatch tiles can serve as an excellent insulator and can bring your outdoor or indoor design to an upper-level. Water Reed roofing is the most popular product to cover gazebos, umbrellas, and Tiki huts, but you can always think more creative and come up with your designs.
African Thatch Application
There are several exceptional reasons to think about choosing African cape Thatch or reed panels. Reed thatch can assist you in building an absolutely stunning place to relax or entertain guests outdoors. Here, we will discuss several reasons why African Thatch is such a perfect material. It's Weather Resistant and Durability.
Each outdoor building formation requires to be correctly treated as weather-resistant to survive the elements. Otherwise, you are wasting your capital, not only money but also other resources such as time. The African Thatch sold by Jinyang Industrial is UV-proof and Flame-resistant and can withstand many of the harshest environment. It can provide genuinely excellent insulation from both tropical kinds of weather during the summer and cold climate in the winter.
If you invest in Synthetic African Thatch the right way, you can anticipate synthetic thatch roofing to survive for more than 20 years. Heat breeze departs upwards from the African Thatch, which means your building will maintain cool on days when the sunlight is extremely intense. Instead of using with more old-school materials such as tile and tin that don't adequately diffuse hot wind, choose African Thatch!
Artificial thatch reed- Environmental friendly
African Thatch is a synthetic product that is 100% recyclable and resistant to pests and mold. Jinyang Industrial's products are created from non-toxic plastic resins that are an excellent alternative to natural thatch materials. You can rely on artificial African cape reed Thatch to stay healthy for a lengthy time. Unlike the traditional natural cape reed roof, you do not need to hire professional thatcher for thatching your roof. Pre-assembled synthetic thatch panels are easy to install and durable because we understand roof thatching and maintenance cost a lot of money.
It Seems Fabulous that African Thatch tile can turn any of your backyard or restaurant into the ideal space for resting and drinking on an ice-cold tequila. Installation is extremely easy, and anyone can do it on their own. Reed thatch also has a unique appearance. Your neighbors will be jealous of your backyard for sure. Everyone on the street will want to visit you, grill in your house, and have a conversation below your marvelous looking Reed Thatch roof.
Synthetic African thatch roofing materials are available at factory-direct pricing. Jinyang shipped our products worldwide. Please feel free to inquiry and contact us. Our response rate is 100% and our professional experts will help you within 24hrs.