How to choose Tiki thatch and bamboo product?

How to choose Tiki thatch and bamboo product?
Why Tiki bar?
Thinking about building a tiki bar in your back yard with thatch materials? Jinyang Industrial proudly offers you our Synthetic Thatch products, style in palm leaves, Mexican thatch, Mexican palm thatch, and our synthetic Bamboo poles with great design and beautiful features.
We can help you create an exotic-themed drinking entertainment spot in your backyard that serves delicious cocktails, especially rum-based mixed drinks. Tiki bars are aesthetically decorated with tiki thatch and Mexican thatch can help you bring the tropical atmosphere to your home.
With our beautiful synthetic palm thatch products, you don't have to worry about replacing your tiki bar thatch roof every five years. Our thatch products are totally maintenance-free, insect and mold-free, a great option for roofing material.
Bamboo applications on Tiki Bar
Jinyang proudly offers unique and great synthetic Bamboo poles around the world. To differentiate the definition of beautiful artificial bamboo poles, our engineer designs the bamboo poles by making molds out of real bamboo.
Additionally, Jinyang Industrial manufactures bamboo poles directly through the injection molding machine. With the image below, you can easily understand why we are the only producer of great authentic artificial bamboo poles.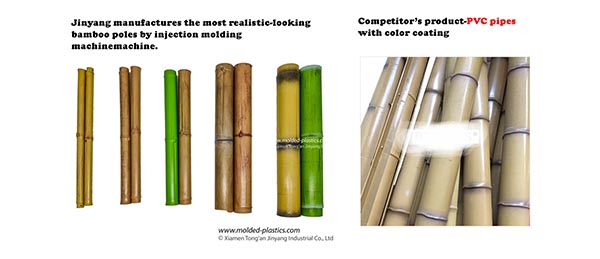 Tiki thatch styles
For the tiki thatch styles, we proudly offer two great styles with our palm leaves and Reed Thatch products. Please see two attached thatch images below to differentiate between two styles.
1. African artificial Reed Thatch with our reed thatch products
2. Mexican palm thatch style with our Synthetic Thatch products
3. Waterproof palm thatch (similar to palm thatch above but comes with waterproof feature)


As a thatch roofing materials manufacturer, our price is definitely affordable. Please feel free to Contact Us and we will able to advise you on product specification and price.