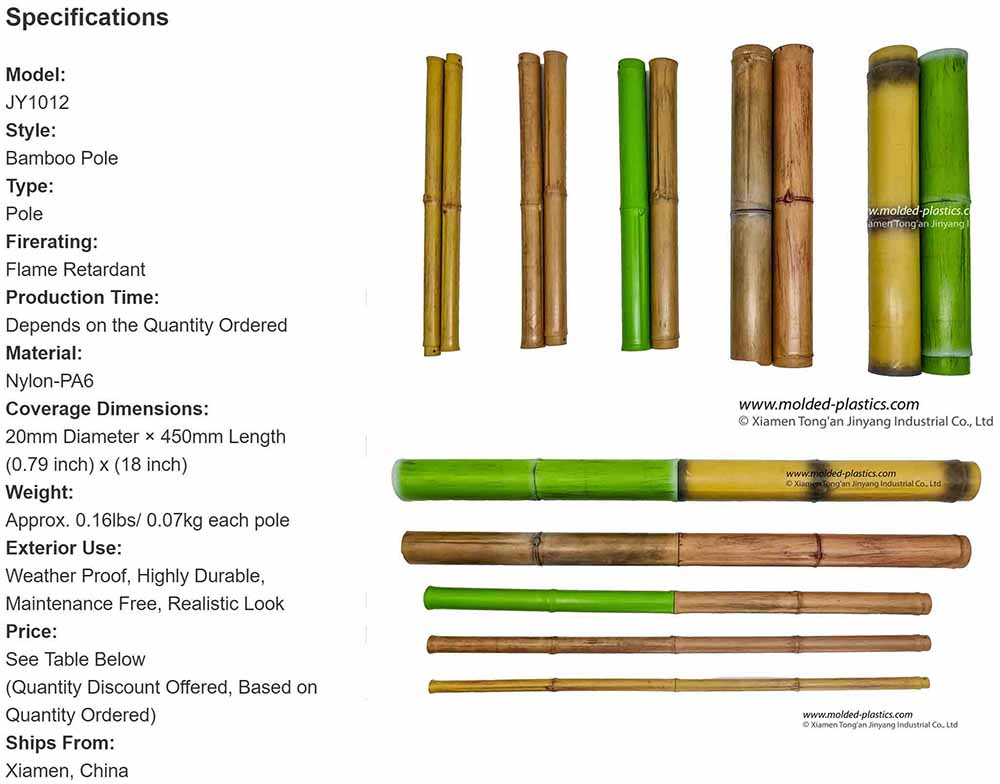 Durable, Lightweight Material

DIY Friendly & Easy to Install

Realistic Look

Maintenance Free

Appealing Color Options

Flame Retardant
Customization
As an artificial Bamboo poles quality oriented manufacturer, our bamboo pole allows for a broad range of possibilities to create custom colors, materials, sizes, textures, and styles -- if you dream it, we can create it.
Synthetic Bamboo Poles Benefits
The Synthetic Bamboo Poles are incredibly straight, firm, and durable.

The synthetic bamboo is manufactured through injection molding machines. Color is blended into synthetic resins before producing the bamboo products, so scratches will not present as white marks.

Synthetic bamboo poles are the ideal application for outdoor and indoor decorations.

Natural coloring and manually created textures are added to create the authentic-looking.

Synthetic bamboo's hollow center also allows for wires, pipes, or cords to be covered in the synthetic bamboo poles.
Unique Design-Synthetic Bamboo
Unlike our competitor's (fake bamboo) PVC pipes with color coatings, our synthetic bamboo does not require any additional coating layers. The color is throughout the whole bamboo.

Jinyang Industrial uses plastic injection molding machines to produce the bamboo pole. Our plastic bamboo poles are created using molds taken from real natural bamboo poles. We invested in more than 20,000 USD to build injection molds for our bamboo pole products.
Product Description
Bamboos evoke a feeling of beach retreats, relaxing leaves, and tropical atmospheres. However, the natural bamboo product has a variety of downsides, such as fire hazards, insects and rotting.
Even though the initial cost is only a little bit cheaper than artificial durable bamboo products, the maintenance fee in the future is a nightmare. Our synthetic bamboo panels are natural-looking alternatives to solid bamboo, which offer an easy way to build Tiki bars, seaside resorts, and zoos anywhere without troubling about maintenance fees.
Made from eco-friendly synthetic materials that are high in quality, our bamboo poles are created using molds taken from real bamboo poles. This allows our products to look exactly like the natural products while being made from a durable, long-lasting, and maintenance-free material.
You'll be astonished at how our bamboo poles will withstand ocean breeze, heavy rain, snowstorm, intense sunlight and general wear & tear for more than 20 years while still looking amazing.
Please feel free to email us if you have any concerns. We'd love to help you incorporate our new Synthetic Bamboo Poles into your next project, instead of using natural bamboo.
Inventory