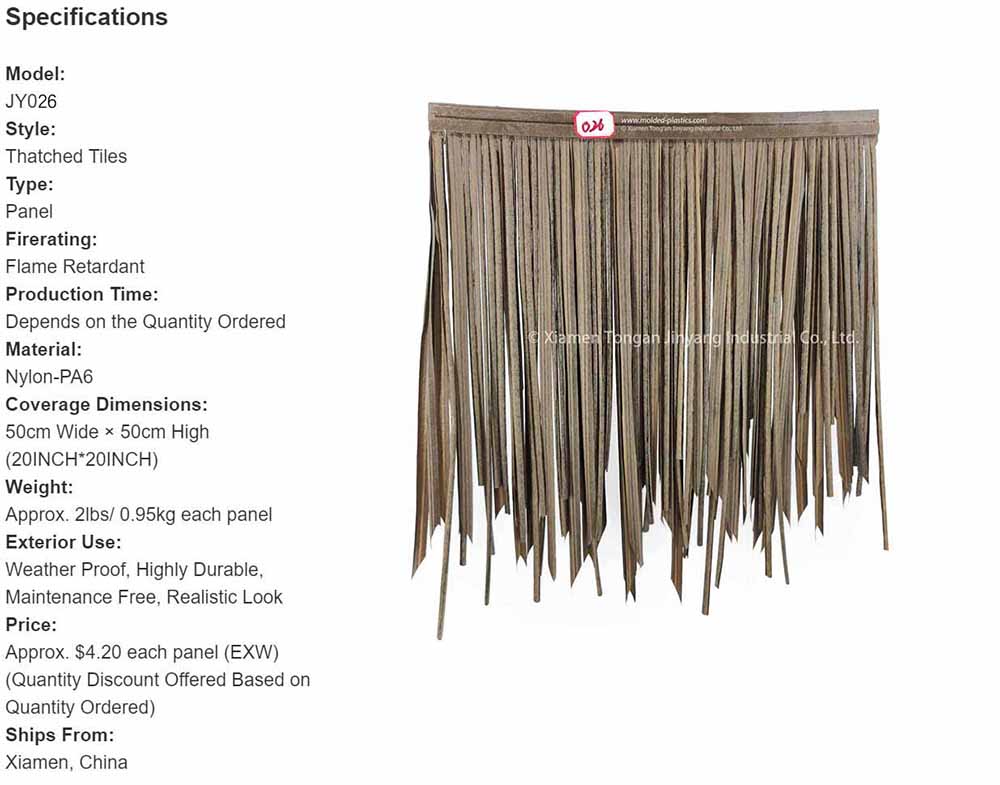 Product Intro
Are you attempting to import Synthetic Thatch tiles from china for a lower cost without sacrificing quality? As a Tiki bar roof, thatch manufacturer directly, our synthetic thatch price is way more affordable than the retailing price in your hometown. If you are interested in acquiring our wholesale artificial thatch rolls, please don't hesitate to hit the inquiry or email us button above.
Synthetic Thatch Benefits:
Long-lasting, Lightweight Material

DIY Friendly & Easy to Install

Original Look

Maintenance Free

Appealing Color Options

Fire Retardant

Color, Material, Texture, Dimensions Customization

Approximately hurricane & typhoon proof
Synthetic Thatch Customization
Our synthetic thatched roof cabana materials open for an extensive range of versatility to create custom tones, materials, dimensions, and thatch styles -- if you dream it, we can build it. For customization service, please click HERE.
If you would like to know our products' features and benefits compared to our competitor's products, please visit our NEWS tab. We posted news related to synthetic thatch products analysis and comparison reports there.
Artificial thatch roofs and Bamboo provokes the sense of beach retreats, relaxing holidays, and tropical environments. Nevertheless, natural thatch and Bamboo has a family of downsides, such as fire accidents, wind issues, insects, and rotting. Even though the starting cost is only a little bit lower than plastic thatch products, the maintenance fee in the future is bizarre. Our Tiki thatch roofing and Artificial bamboo panels offer an uncomplicated way to build Tiki bars, beach resorts, and theme parks anyplace without bothering about maintenance fees.
Made from eco-friendly synthetic resins that are great in quality, the thatch products are build using molds taken from original thatch and Bamboo. This approach enables our products to look exactly like actual products while being made from a durable, long-lasting, and maintenance-free material. You'll be surprised at how well it will resist ocean breeze, heavy rain, snowstorm, strong sunlight, and general wear & tear for more than 20 years while still looking fabulous.
With unimaginable color choices to choose from, you'll be capable of getting an appearance suitable for your own design plan.
Thatched-roof Pavilion
Many areas where synthetic thatched-roof pavilions are easily included are resorts, retreats, outdoor yoga pavilions, theme parks, and residential gardens. Browse through the pages of any house decorating or gardening journal, and you can easily find at least one thatched-roof pavilion. Why? Because synthetic thatched roofs are trending! A lot of locations designed for both entertainment and relaxation will adopt synthetic thatch roofing because thatched roofs can not only provide a tropical escape feeling but also provide people under it with shade and comfort. In other words, nothing in such settings can function as well as a source of shelter and ambiance as a thatched-roof pavilion.
Artificial thatch is a popular thatched roofing material used all over the world to produce natural, durable roofing for a variety of building structures. What makes synthetic thatched roofing so perfect is that it holds up to most horrible weather conditions, provides exceptional circulation, and is attractive and durable at the same time.
Whether in Africa, America, or any other region, landscape builders and designers have a specific appreciation for synthetic thatched roofs for pavilions and cabanas in a lot of business settings.
The good stuff about the synthetic thatched roof is that they are so versatile. Synthetic thatch tiles can be used to create roofs that accommodate large crowds or several small tourist groups. Synthetic thatch roofing works for both commercial and residential businesses, and they adapt to a series of design styles.
Whatever you choose to apply synthetic thatched-roof for, you will undoubtedly experience the cool and tropical environment it provides any business settings. Combining a thatched roof pavilion or synthetic thatch umbrella cover to your building project creates a stunning outdoor living area for any circumstance. It can be utilized year-round in all sorts of weather.
Are you interesting about Synthetic Thatch?
At Jinyang Industrial, we have a deep-felt knowledge of synthetic natural construction products. When you're concerned about sustainable, environmentally beneficial, and cost-saving natural building materials that offer imaginative ideas to serious challenges, we are able to support you. All our Synthetic thatched tiles are shipped worldwide. Please don't hesitate to reach us for whatever questions, and we will get back to you within 1 day.