Artificial Thatch Roofing Materials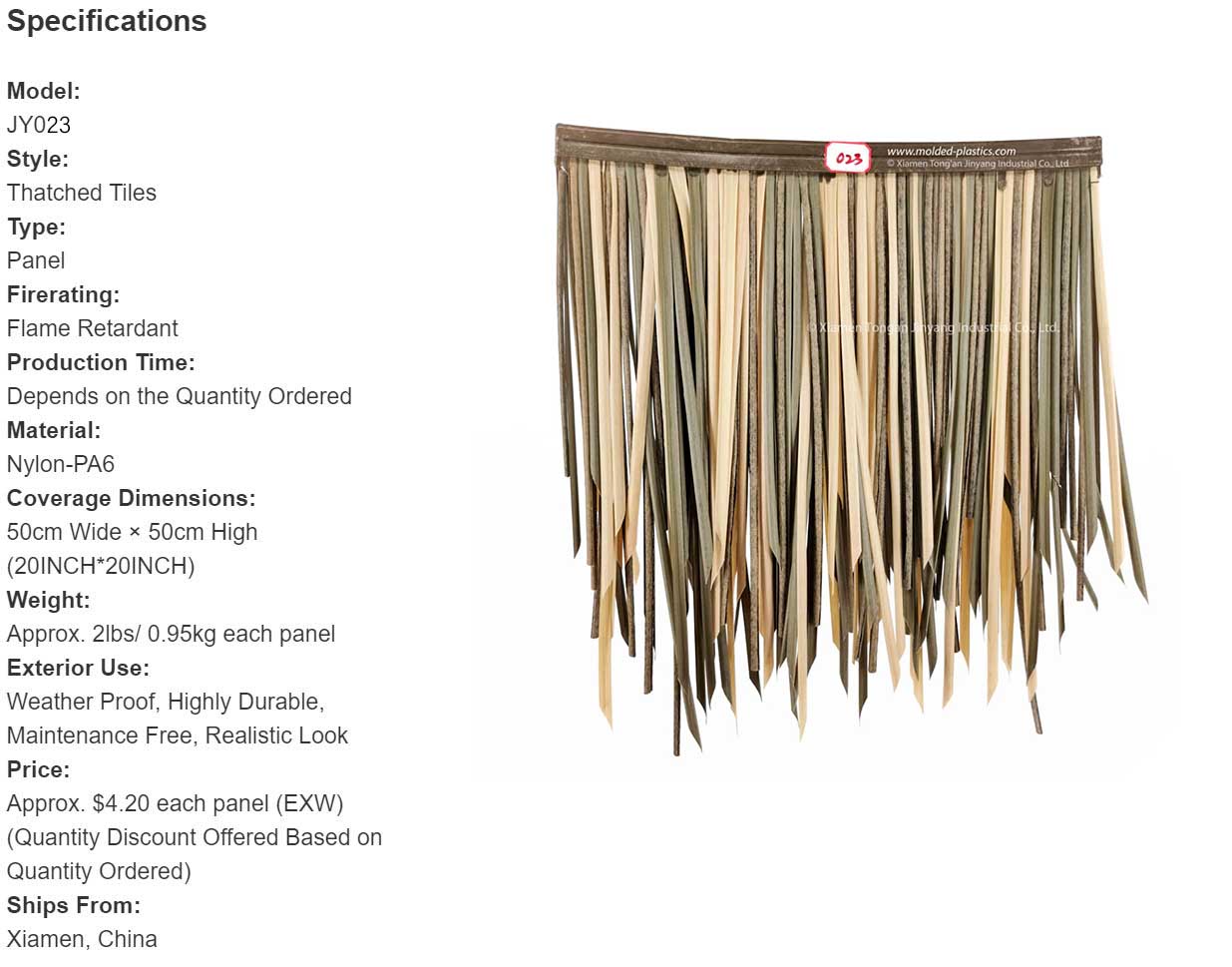 Product Features
Durable, Lightweight Material

DIY Friendly & Easy to Install

Realistic Look

Maintenance Free

Appealing Color Options

Flame Retardant

Color, Material, Texture Customization Available

Nearly hurricane & typhoon proof
Product Intro
Are you trying to import thatch tiles from china for a lower price? As a Tiki bar roof artificial thatch manufacturer directly, our artificial thatch cost is way cheaper than your local retailing price. If you are excited about our factory-direct plastic thatch rolls, please feel free to click the inquiry button or email us button above.
Artificial Thatch Customization
Our artificial thatched roofing materials provide a broad range of versatility to create custom colors, materials, sizes, and thatch roofing styles -- if you dream it, we can make it.
If you would like to know our products' features and advantages compared to our competitor's products, please visit our Blog tab. We posted news related to product analysis and comparison articles there.
Artificial thatch roof and Bamboo evokes the feeling of beach resorts, relaxing vacations, and tropical atmospheres. However, real thatch and Bamboo has a variety of bad features, such as fire risks, wind issues, insects, and rotting. Even though the beginning cost is only a little bit cheaper than Synthetic Thatch products, the maintenance fee in the future is horrible. Our artificial thatch for tiki hut and artificial bamboo panel offers an effortless way to make Tiki bars, beach resorts, and zoos anywhere without worrying about maintenance fees.
Made from eco-friendly and recyclable plastic materials that are top in quality, Our artificial thatch roofing products are manufactured using molds created from natural thatch. This allows our artificial thatch rolls to look exactly like the real traditional products while being created from a durable, long-lasting, and maintenance-free material. You'll be impressed at how well it will withstand ocean breeze, heavy rain, snowstorm, tropical sunlight for more than twenty years while still looking fabulous.
With numerous color options to choose from, you'll be able to obtain a surface design that suitable for your building plan.
4 Things Matter when purchasing thatching supplies
A Matter of Quality
Understandably, artificial thatch roof covering costs is a concern when choosing roof thatch materials, but clever buyers understand that quality often presents more solid value. When you choose to work with an established, trusted manufacturer like Jinyang Industrial, you can be certain that you are receiving top quality artificial thatch products. Our Synthetic Thatch will function as they should and provide the results that you need to perform your project a success.
The Right Thatch Styles
While couple thatch roof panels may look indistinguishable at first glance, there can be variations that aren't readily obvious that will affect how the artificial thatch tiles perform and whether it's appropriate for your project.
If you are purchasing artificial thatch roofing material, does it come with UV-proof test results, or are you risking that it fades to white within a year? At Jinyang Industrial, we provide TUV UV exposure testing reports.

Do you need a Waterproof roof or just a shade structure? At Jinyang Industrial, we supply

waterproof palm thatch

.

Super easy to install and no accessories required.

Can you tell if a thatch panel has been treated inherently with a fire-retardant? Don't risk people or your friend's life. Ask for the paperwork to prove it! We have fire-rated test reports available as well.

Do you know if artificial thatch is a more suitable option for your application?
A reputable thatch manufacturer, Jinyang Industrial, doesn't simply want to trade you artificial thatch products. We want to supply you with the top thatch materials for your project, and we will invest the resources in learning about your project to ensure you receive the correct thatching supplies.
Reliability
You've presumably heard horrible stories of poor Chinese contractors who vanish in the middle of a project or suppliers whose inventory seems to be forever on backorder. Those are typical shell companies or fake trading companies from China. They seem to have huge collections of artificial thatch products on their website, but the truth is they search and collect product info from several factories. However, Jinyang Industrial is an ISO 9001 certified manufacturer, and an SGS verified plastic manufacturer. You can learn more about our company by browsing About Us Tab.
Why take a risk that you'll find yourself struggling because materials fail to materialize? Protect yourself and your project's achievement by working with a reputable manufacturer to secure your thatching supplies while saving more than 30% cost. With over 10 years of experience in exporting and manufacturing artificial thatch materials, Jinyang Industrial has explained that it can be counted on to deliver on its commitments.
Contact Info
Are you exciting about our artificial thatch products? Please click HERE to Contact Us!